2-28-01
Dear Friends,
I have been very busy this month learning and practicing things that I may be doing once I am a service dog. I am already very good at picking up stuff from the floor and bringing them to Mom. I can get pens and pencils, car keys, even the remote for the TV! Now I've also learned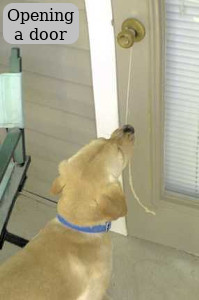 how to open and close doors by pulling on a rope tied to the doorknob or by putting my paws on the door and pushing. Once I learned the "pull it" command, Mom started having me pull her bedroom door closed when we leave for class in the morning. I love learning new things!
Last weekend, I stayed with a Puppy Sitter while Mom took a long trip with some of her friends. I'm not sure where she went, but she came back with a whole handful of bead necklaces. Some of them are hanging on the rearview mirror in our car; they are fun to look at when we're driving around.
Everybody who puppy-sits me says that I am doing very well in my training and Mom is very proud of my good manners. I try really hard to be calm and pay attention when I am wearing my jacket, because I know that when the jacket comes off, I can run around and just be a dog. Shari (another Puppy Walker) says when I'm not in jacket, I'm more hyper than her Dachshund mix, Dinah!
Until next time . . .
Lotsa kisses,

Tess